---

Hershel Woody Williams Medal of Honor Foundation
---
Gold Star Families Monument Gets
White House Backing
The Hershel Woody Williams Medal of Honor Foundation has a goal, and now it has some pretty strong backing — from the White House.

Read more
---
---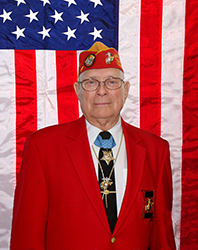 Letter from Woody
As an 18 year old farm boy waiting to go to war to protect the freedom I had learned about in grade school, from a teacher who loved her country, my life and values were impacted by an experience I had as a driver of a taxi in the small community of Fairmont, West Virginia.
During my youth I had a boyhood friend by the name of Leonard Brown. We were near the same age. I wanted him to join the Marines with me, but he elected to go to the Army Air Force. While over seas his plane disappeared and no trace of it was ever found. His family waited 7 long years with hope, all the while he was declared missing in action, before they finally received official word that he had been lost. No trace of Leonard or his aircraft was ever found.
Please share your favorite "Woody" Story!
We would love to hear from you.
Calendar of Events
May 30, 2016

Dedication of Gold Star Families Memorial Monument, Grove City, OH

May 20-21, 2016

NRA National Convention Exhibitor, Louisville, KY

May 19, 2016

Salute to Military and Veterans Parade, Gallipolis, OH

May 12-14, 2016

Supporting the Marine Corps Law Enforcement Foundation, Scottsdale, AZ

May 6-7, 2016

Marine Corps. League Convention, Wheeling, WV

April 22-24, 2016

Mountain Man Memorial March for Gold Star Families, Gatlinburg, TN

April 16-18, 2016

Stars in Service Gala, Scottsdale, AZ

April 6-9, 2016

Medal of Honor Host City Program , Gainsville, TX

March 22-26, 2016

Medal of Honor Day Dinner and Citizen Before Self Honors Ceremonies, Washington, DC

February 18-21, 2016

Iwo Jima Survivors and WWII Reunion, Wichita Falls, TX

February 8, 2016

Groundbreaking of Gold Star Family Memorial Monument, Port St. Lucie, FL

February 6, 2016

Supporting Patriot Patriot, Sarasota, FL

February 3, 2016

Chapel of the Four Chaplains Award; speaking engagement with US Coast Guard, Philadelphia, PA

January 14, 2016

Ship Naming Ceremony with Secretary of the Navy, Charleston, WV Culture Center

December 10-12, 2015

WWII Museum
New Orleans LA Tokyo Road opening

November 14, 2015

Speaking
Greenup, KY
MCL

November 8-11, 2015

Speaking
Orlando, FL

November 6-8, 2015

American Veterans Center, Washington DC
Receiving Award

November 5, 2015

Speaking engagement with Gen. Rogers
Charleston, SC

October 23-25, 2015

Skyball

October 16-18, 2015

CMOHF Golf/Fundraiser event
Charlotte, NC

October 2, 2015

Fundraiser dinner
Dallas, TX

September 27, 2015

First Annual GOLD STAR Families Cruise
Belle of Louisville, Louisville, KY

September 21, 2015

Speaking to VFW Union League Club
Philadelphia, PA

September 20, 2015

Monument Groundbreaking
Fall River, MA

September 16-20, 2015

National Medal of Honor Convention
Boston, MA

August 22, 2015

Cincinnati Red Pre-Game Honors
Cincinnati, OH

August 15-17, 2015

Spirit of '45
Dallas, TX

August 6-8, 2015

Nashville Salutes

August 5, 2015

Gold Star Families Meet & Greet
Knoxville, TN

July 14, 2015

Dinner to help raise funds for monument

July 14, 2015

Huntington/Cabell Republican Women's Group
Guyan Country Club, Barboursville, WV

July 7, 2015

Guest of the Commandant, USMC
Evening Parade, Iwo Jima Memorial
Washington, DC

July 3-5, 2015

Veterans Tribute and Concert at the PGA Golf Tournament
Greenbrier Resort, White Sulphur Springs, WV

July 3, 2015

The WHITE HOUSE
East Wing

June 19-20, 2015

Second Chance Concert
Bluefield, WV

May 25, 2015

Dedication of Gold Star Families Memorial Monuments in Fairfield, OH and Lafayette, IN

May 21, 2015

Dedication of Gold Star Families Memorial Monument
Tampa, FL

May 15-17, 2015

Trail of Honor
Jackson, MS

May 14, 2015

Heroes and Horses with Medal of Honor Recipients Dakota Meyer and Ernie West
Visit vmpkyheroes.com for tickets

April 27-28, 2015

Riverside Military Academy
Gainesville, GA

April 14-15, 2015

Marine Corps Law Enforcement Foundation fundraiser
Philadelphia, PA

April 8-12, 2015

Medal of Honor Host City
Gainesville, TX

March 24-25, 2015

Medal of Honor Day Recognition/
Wreath Laying at Tomb of Unknowns

March 16-23, 2015

Return Trip to Guam and Iwo Jima for 70th Anniversary

Feb 18-20, 2015

70th Anniversary Iwo Jima
Washington, DC

Feb 12-14, 2015

70th Iwo Jima Survivors Reunion
Wichita Falls, TX

Jan 10, 2015

Medal of Honor Bowl
Charleston, SC

Dec 11, 2014

If Not Me, Then Who…" Gala, The Union League of Philadelphia

Dec 7, 2014

Honor and Remember Gala with Gold Star Families, Virginia Beach, VA

Nov 13, 2014

Medal of Honor Wall of Memory dedicated at the Huntington, WV VA Medical Center.
In the News
Feb. 5, 2016

Iwo Jima hero to speak in Port St. Lucie Monday

TCPalm

Dec 6, 2015

Medal of Honor Recipient speaks at SAR holiday dinner

TheNewsCenter.tv

Dec 4, 2015

Williams' foundation leader in establishing permanent Gold Star Family Memorial Monuments

Times West Virginian

Dec 5, 2015

Hershel "Woody" Williams Unveils Gold Star Families Monument

WDTV.com

Dec 5, 2015

Gold Star Families Memorial Monument Dedicated in Fairmont

WBOY.com

Dec 4, 2015

Hershel "Woody" Williams To Dedicate Gold Star Families Memorial Monument in Fairmont

WAJR

Nov 9, 2015

Voices: An enduring hero of Marines' most iconic battle

USA Today

Nov 5, 2015

Honoring Families of Fallen Heroes

The Highland County Press

Nov 4, 2015

Marker given 'visible' home off Broadway

This Week News

Oct 27, 2015

Grove City unveils new monument honoring fallen military heroes

NBC4I.com

Oct 21, 2015

Navy naming ship after West Virginia Medal of Honor Marine

NavyTimes

Oct 2, 2015

Memorial In Veteran's Park To Honor Military Families

Lex18.com

Sep 23, 2015

Medal of Honor recipient, 91, works to expand monuments for Gold Star families

Fox News

Sep 21, 2015

MOH Recipient Says Gold Star Families Monument Project Expanding

Stars and Stripes

Sep 20, 2015

Gold Star families, officials break ground on Fall River memorial

The Herald News

Sep 5, 2015

Monument would pay tribute to veterans' sacrifices

Medina-Gazette

Aug 6, 2015

Gold Star Monument plans advancing

WBIR

July 31, 2015

Operation Good Citizen: Teaching Kids to do the Right Thing in 2015

Parade Magazine

July 28, 2015

Medal of Honor Recipient educates teachers on Character Development Program

WOAY-TV

July 5, 2015

Hershel 'Woody' Williams named to Oval of Honor

The Herald-Dispatch

June 28, 2015

Center unveils portraits for three Medal of Honor recipients

The Pueblo Chieftain

June 25, 2015

Marine Corps League donation to help S.C. get Gold Star Family Monument

Greenville Online

June 20, 2015

Robinson honored for community service

Bluefield Daily Telegraph

June 15, 2015

Medal of honor memorial unveiled in Clinton

IndeOnline

June 15, 2015

Medal of honor memorial unveiled in Clinton

IndeOnline

June 15, 2015

Clinton veterans park unveils new monument to Ohio's Medal of Honor winners

Akron Beacon Journal

May 21, 2015

Memorial pays tribute to Gold Star families' sacrifices

The Tampa Tribune

May 20, 2015

Gold Star families will be honored at Columbian Park's revamped Memorial Island

JCOnline

Apr 21, 2015

World War II Vet Honored By Parkersburg Catholic HS

The NewsCenter

Mar 25, 2015

Medal of Honor Day: Hershel Williams talks about his recent return to Iwo Jima

Stars and Stripes

Feb 19, 2015

Memorial to honor families of fallen service members

Democrate & Chronicle

Jan 28, 2015

Williams brings message of honoring Gold Star families to Grove City, OH

ThisWeek Community News

Jan 12, 2015

Gold Star Families Monument coming to Greenup County, KY

WOWK TV

Jan 12, 2015

Medal of Honor recipient gives first $5,000

The Independent

Dec 22, 2014

Marines raising money for Gold Star families monument in Kentucky

Stars and Stripes

Dec 20, 2014

Former Marines raising money for Kentucky monument to honor Gold Star families

Marine Times

Dec 16, 2014

Gold Star Families Memorial Monument movement lands in Ashland, Ky.

The Independent

Dec 16, 2014

Hershel Woody Williams and his Foundation support Travis Manion Foundation in Philly

PR Web

Nov 13, 2014

Medal of Honor Wall of Memory dedicated at the Huntington, WV VA Medical Center.

Herald Dispatch

Sep 29, 2014

Marine Corps League Donates To Hershel Woody Williams Medal Of Honor Foundation

WCHS ABC

Sep 19, 2014

MOH recipient's goal: Tributes to Gold Star families in all 50 states

Stars and Stripes

Sep 22, 2014

Pottstown's Price among those on new Gold Star Monument in Valley Forge

The Mercury News

Sep 21, 2014

Gold Star Monument comes to Valley Forge

The Times Herald News