"What is a Gold Star Family Member"?
"A wife, husband, mother, father, stepmother, stepfather, parent through adoption, foster parents who stand or stood in loco parentis, children, stepchildren, children through adoption, brothers, sisters, half brothers, half sisters, grandchildren and grandparents of a member of the Armed Forces of the United States that sacrificed their life for our way of life and the American flag under which they served."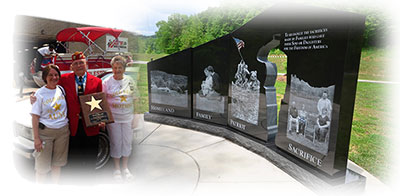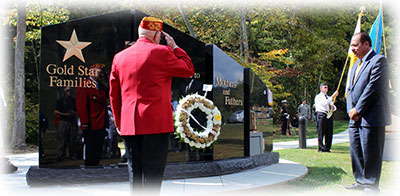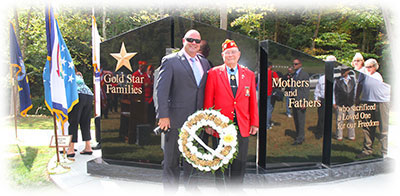 Our Projects
A seed was planted. As a young boy on a dairy farm in West Virginia, Woody could never have imagined that a passion and vision would begin to develop because of the experiences he had as a young man. As a cab driver, his duties were to deliver Western Union telegram death notices to families that had lost a loved one in battle. This experience weighed heavy on Woody's heart through the years, while his dreams began to take shape. Now, years later, Woody's vision of honoring and paying tribute to these Gold Star Families "for their sacrifice of one of their loved ones has become a reality".
The goals and objectives of the Hershel "Woody" Williams Medal of Honor Foundation are to continue to nurture the seed that Woody has planted and bring his full vision to fruition through this project.
Our projects currently include the promotion, creation, and implementation of Gold Star Families Memorial Monuments throughout the country. The original monument was established at the Donel C. Kinnard Memorial State Veterans Cemetery, 130 Academy Drive, Dunbar, WV in 2013. A second Gold Star Families Memorial monument is being planned by the patriotic citizens of Marietta, Ga. Woody recently presented the Gold Star Families Memorial Monument project to the National Museum of the Marine Corps in Quantico, Va. for their consideration in placing one on the Museum grounds.
Gold Star Families Memorial Monument