Rochester NY - Gold Star Families Memorial Monument
Home

→

Rochester NY Project - Gold Star Families Memorial Monument
Rochester NY Project - Gold Star Families Memorial Monument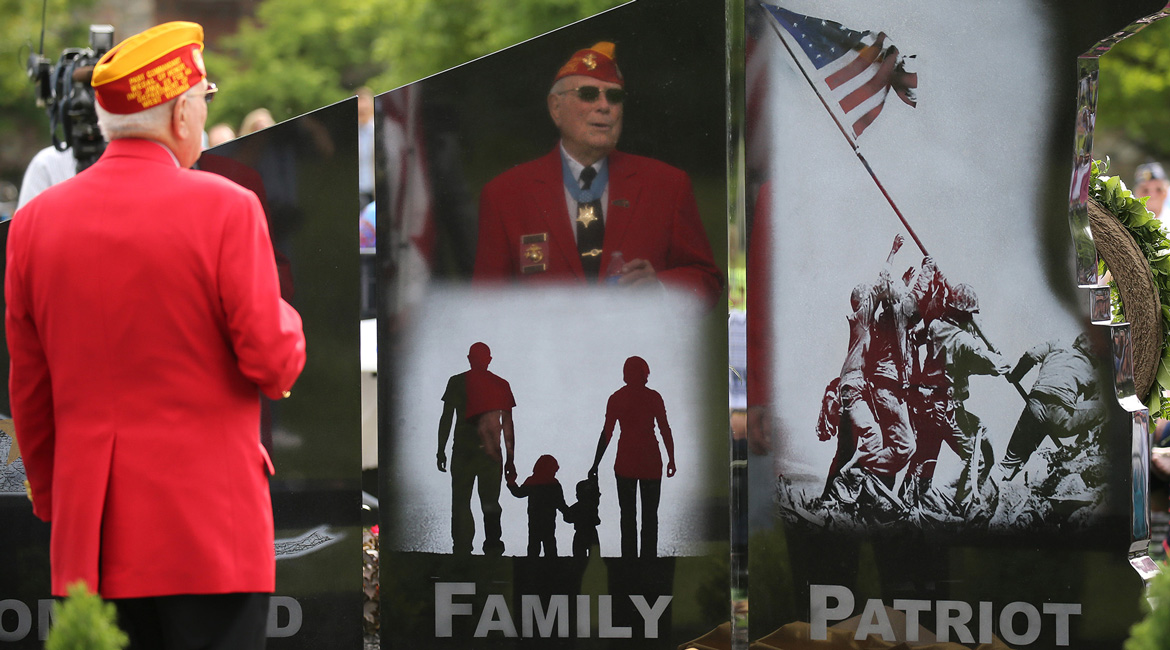 New York's new Gold Star Families Memorial Monument, honoring the families of servicemen and women who have sacrificed their life during their service to our country, is now becoming a reality.

Medal of Honor Recipient Gary Beikirch is the Chairman of the committee for the Rochester, NY Gold Star Families Memorial Monument and Honorary Board Member, Hershel Woody Williams Medal of Honor Foundation. The committee for the memorial will be comprised of devoted patriots from the Greater Rochester, NY area.

A Gold Star family is a wife, husband, mother, father, stepmother, stepfather, parent through adoption, foster parents who stand or stood in loco parentis, children, stepchildren, children through adoption, brothers, sisters, half brothers, half sisters, aunts, uncles, grandchildren and grandparents of a member of the Armed Forces of the United States that sacrificed their life for our way of life and the American flag under which they served.

The Gold Star Family Memorial was created by Medal of Honor Recipient Hershel "Woody' Williams to remember those families who have made the ultimate sacrifice. To learn more about the memorial, please visit our Gold Star Families Memorial Monument web page.
"Dying for freedom isn't the worst thing that can happen. Being forgotten is." Georgie Carter-Krell (Mother of Posthumous Medal or Honor Recipient Pfc. Bruce W. Carter, USMC- Florida
Memorial to honor families of fallen service members
Many U.S. memorials honor American service members lost in combat, but fewer focus on the sacrifice of the families left behind. Rochester will now honor those families with a new memorial, announced Wednesday, in White Haven Memorial Park in Pittsford.

Rochester sends many service members into battle with all branches of the U.S. military, and the Gold Star Families Memorial will be a place for all family members to come to grieve or seek solace in the memory of their lost one, said Gary Beikirch, Medal of Honor recipient and chairman of the Gold Star Families Memorial of Greater Rochester committee, at a news conference.

"Healing doesn't come from forgetting, it comes from remembering," Beikirch said, "and being able to trust that there are … others around us who are there for us."

The stone memorial, which will form an open shape of a saluting service member, will signify the loss and sacrifice of military families. A portion of the memorial will list names of Rochester service members and their families from 1991 to the present.

"This will serve as a remembrance that freedom is not free — it comes at a very precious price," he said.

Rochester resident Avamaria Glende, whose son Theodore M. Glende was killed in Afghanistan in 2012, said the memorial project shines a light on just how many Rochester families have lost service members.

"As a parent having lost a son, it's a devastating thing," said Glende, whose son is buried in White Haven. "You kind of disappear into the woodwork … but this brings awareness to those families."
The monument will be adjacent to the park's All Season's Chapel, which will hopefully offer high visibility to those visiting graves or other memorials, like the Korean War memorial, in the park, said Vietnam veteran John White.

"It's a solemn environment," White said. "This is hallowed ground, and a perfect location for this memorial."

The memorial will cost around $90,000 — part of which has already been raised by Rochester community members and veterans, White said. Construction is scheduled to begin in the spring, he said.

The Gold Star Families Memorial project was started by Medal of Honor recipient Hershel "Woody" Williams, who felt that soldiers' families should not be forgotten. The first Gold Star memorial was erected in West Virginia in 2013, and since then a handful of them have popped up across the country.

White Haven Memorial Parks Inc. President Andrea Vittum said she was honored that the park was chosen as the site of the Rochester memorial.

"This memorial is certainly well deserved" by local veterans and their families, she said. "We hope that you will visit often, and that you will find comfort here."

To donate to the Gold Star Memorial project, send checks made out to the "Rochester Area Community Foundation" with a "Gold Star Families Memorial" memo to 500 East Avenue in Rochester.

STADDEO@DemocratandChronicle.com
News and Announcements
This memorial monument was dedicated on June 10, 2016.